Eating Vegan in Hamilton Ontario with @peaslovevegan
The availability of vegan options and vegan restaurants in my hometown Hamilton continues to grow. I always have such a great time showing visitors around Hamilton, because I always get to experience something new. Tanairi from @peaslovegan, has been a friend of mine since I first started Sugared Coconut. The community of support one can develop through social media is incredible and it's something we are grateful for every day.
For those of you who don't know Tanairi, she is a compassionate vegan blogger and plant boss. Tanairi started her own hand-made cruelty-free jewellery business with a cause called Peas & Love. Each piece spreads awareness about veganism and animal cruelty, by showcasing a particular saying. My personal favourite is her 'eat more plants' cuff bracelet. Along with spreading a message and raising awareness, Peas & love also makes a difference by donating 25 percent of all proceeds to non-profit organizations dedicated to reducing animal cruelty. Tanairi was in Toronto last week so I decided to show her around all the vegan food spots & local restaurants with killer vegan options in Hamilton. I didn't get to show her all the places because by round three we were completely stuffed, so I've included other places you should check out if you are ever in Hamilton.
Brunch:
Democracy is one of my favourite vegan food spots in Hamilton. Serving an all-vegan menu throughout the day, Democracy has something for everyone. Whether you are in need of a healthy bowl, a delicious treat (their vegan s'mores are amazing), vegan pizza/ something else that's not so healthy, or a scrumptious vegan latte. Whenever I go to Democracy, I get their gluten-free cauliflower wings with Spicy Sriracha Lime dressing, they have a bit of a kick so if you don't like spice try their agave and garlic sauce. Obviously we had to get the Cauli Wings and Democracys killer smoky BBQ tofu sandwich. It was too good to turn down! We ended our lunch with a scrumptious vegan S'more, I have no idea how they make it so good, but I am determined to find out the secret.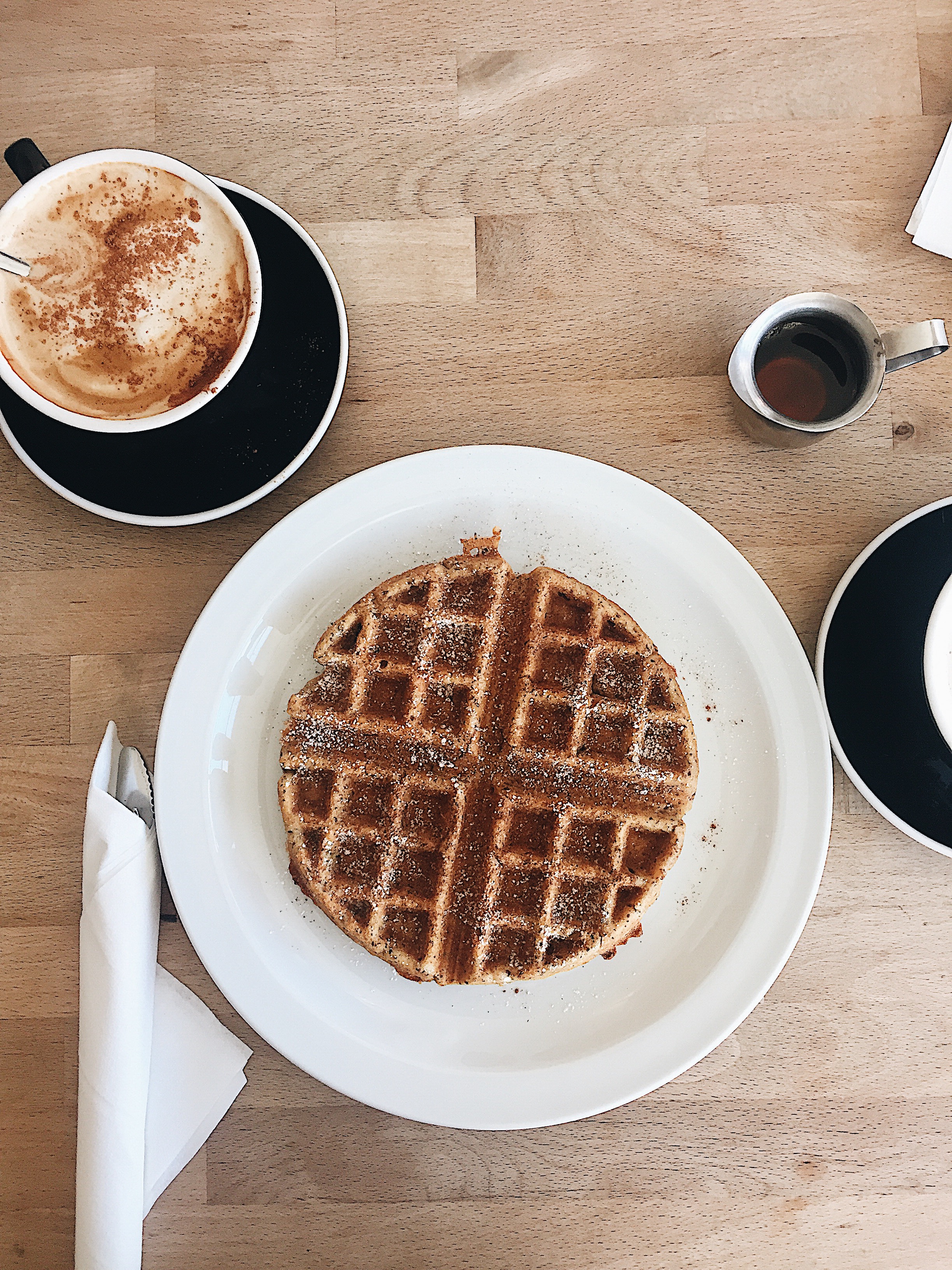 Vegan & Gluten Free Waffles
Who else loves breakfast for dinner? It's one of my favourite things to eat and I am so thankful Tanairi did not oppose. The Cannon Coffee House is a local coffee shop serving a variety of drinks and vegan waffles. When I discovered the Cannon had vegan waffles I was hooked. We had buckwheat waffles topped with Canadian maple syrup (Tanairi had to try something Canadian made) with a coconut London Fog and a soy latte. If you are still hungry after devouring this waffle, check out Boon Burger Hamilton for a delicious vegan burger or the Hearty Hooligan for a vegan comfort classic. Me and Sam highly recommend their Jamaican patties.
Snack / Desperate Need of A Cleanse:
Okay, after eating that waffle we were in desperate need of something healthy/ something to balance out our day so we headed to GreenBar. A local vegan juice bar & wholesome vegan food cafe. I had a pineapple and cayenne smoothie whilst Tanairi had a chocolate banana coffee smoothie for her ride home. If we had more room in our bellies, I would have ordered us one a Green Rabbit Bowl and their killer plant-based burger. Or, walked down the street to Mulberry Coffee House to grab a vegan donut and a vegan sweet potato and tahini pizza.